Premodern's community has been growing since it was created in 2018.
Even being a "non competitive official" format, one could argue that it's probably the most healthy community, where players chill out together, drink beer and laugh as they play.
Tournaments are all around (face to face, by webcam or Magic Online) with amazing regularity. National and continental competitions have been organized, putting together more than 100 players each time.
TC Decks fell in love with this community and the format. Up to the point in which, nowadays, almost all of its efforts and few resources are focused on supporting them.
People were lacking something with which to measure their improvement playing the format; something with what to compete against themselves and others, and something with what to show the world how much effort they were putting in developing their expertise and cracking Premodern.
So we decided to come up with something…
Taking into account that we have enough data to do it, because almost every Premodern tournament that is uploaded somewhere, is published in tcdecks.net, we would like to present to you the TC Decks Premodern Player's Ranking (TPPR).
A Ranking that is updated each day, according to player's results in each tournament that is published in TC Decks, and that will have a Hall of Fame for all those players that reach the Premodern Olympus.
The TPPR will determine which are the best players of the format and those who have more consistency and hard work ethics.
How does it work?
Players will receive points for their performance in each tournament. The amount of points received, will be determined by the amount of players in the event and their final position.
Only tournaments that took place in the last 365 days will be taken into consideration. Ranking will update automatically each time a new tournament is published.
Points will go like this:
For Tournaments of 9-16 players
2º = 1 point
1º = 2 points
For Tournaments of 17-32 players
Top 8 = 1 point
Top 4 = 2 points
2º = 3 points
1º = 4 points
For Tournaments of 33-64 players
Top 8 = 2 points
Top 4 = 4 points
2º = 6 points
1º = 8 points
For Tournaments of 65-128 players
Top 8 = 4 points
Top 4 = 8 points
2º = 12 points
1º = 16 points
For Tournaments of 129+ players
Top 8 = 8 points
Top 4 = 16 points
2º = 24 points
1º = 32 points
For Premium Tournaments
Top 8 = 2 points
Top 4 = 4 points
2º = 6 points
1º = 8 points
What are Premium Tournaments?
Premium Tournaments are those where previous good results in other tournaments or some kind of skill oriented classification is needed to participate.
Lets take for example the Semimonthly Playoffs of the Magic Online Society. This is a tournament in which the best 16 players of the last 2 Semimonthly Tournaments play against each other in a K.O. format.
Another example could be the Final Tournaments of the Leagues of Alicante or Madrid, where only the best performing players of all the monthly tournaments throughout the year are available to play.
These tournaments are marked as such in their results page, as you can see in this image: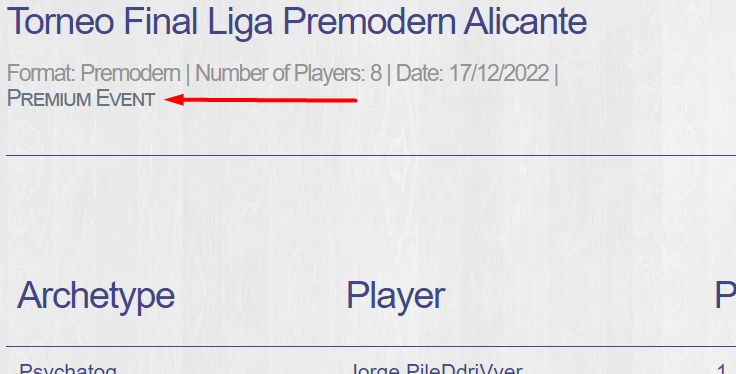 These Tournaments earn a higher amount of points in comparison with other events of the same number of players because difficulty in them increases, as only players that perform well are playing in them.
If you organize this type of tournament in your community, let us know so that we can mark them as such. Simply send us an email to tcdecks@gmail.com. This must be done before the tournament occurs and TC Decks reserves the right to check the truthfulness of the submission.
Hall of Fame
A Hall of Fame exists for all those players that reach first place at least once. Whenever someone sits at the top, even if it's just for one day, will have his name set in stone in the Premodern player's Olympus.
Players who reach Top 8 of the TPPR at least once, will see its name appear in bold since then. Aiming to recognise players that do so well.
Regarding your TC Decks name
You must take into account that the ranking sums up points to players according to the names that have been submitted to TC Decks.
Your submitted name must always be exactly the same if you want to add points correctly. If not, it will be as if different players were playing and adding points.
So, from now on, make sure to always submit your deck lists with the same name. If you have not done so in the past and want to be represented in the TPPR with the points that you deserve, you can do the following:
For example, let's say that in some tournaments you have been represented with the name "Fran" and in others with "Franki", being "Franki" the one that you want to consolidate into from now on.
Search for the tournaments in which you have been named "Fran" and send us an email to tcdecks@gmail.com with them, specifying the name in which you want those to be changed. Being, in this example, "Franki".
Be patient with these name changes, we guarantee that everyone of them will be managed.
We sincerely hope that you like this new TPPR initiative, you can access to it from here. Let us know in Twitter about your thoughts 🙂.